Long story short: I heart tea. If you've been following along you may have read some of
my previous posts
on tea and you may well be sick of the subject. So sorry, mea culpa.
Now for the rest of y'all.
I talk a lot about loose leaf tea. Why bother? I'm sure there are many erudite reasons for loose vs tea bags. Come on, you know how to google. Yes, I do use loose leaf tea because I find the taste more full, more fresh but for me it also feels ... serene, peaceful, elegant, sensual, exciting. I wipe noses and say things like "STOP LICKING ME!!" all day long (and often at night) so you can see why a little cup of grace might be attractive.
Like my last post, this is just my opinions and your mileage may vary.
So when you make loose tea, you basically need something to boil the water, something to steep the tea in and something to strain out the leaves. I'm going to talk about some of the things you can use for each step, from basic things you may have around your house to fancy expensive doo-dads. I'll point out what I use myself and why and what I don't. And so ... away we go.
Duh.You can use a pot. Any old pot or pan'll do but if you want to be specific, one with a pouring lip is better. Another simple thing to use to boil water is a microwave - fast, simple and if you have a good sized microwavable measuring cup, it makes pouring darn easy.
Some other options are a tea kettle (ye olde whistling kind or not) or an instant coffee machine like a Keurig.
Here is my pretty kettle/teapot ...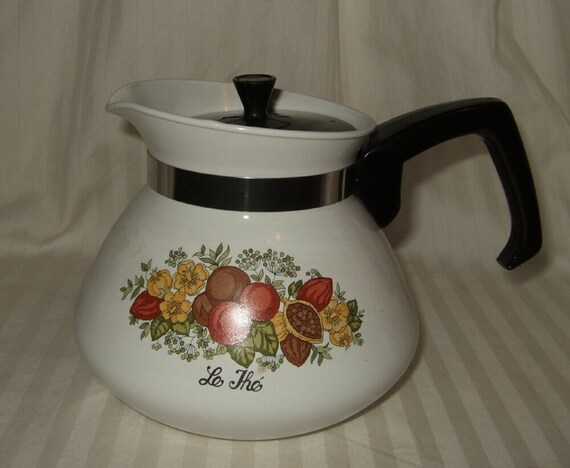 Here is why I love it. It's excellent for both boiling and steeping and it holds a whole lot. And it's vintage and purty and makes me smile. Most folks don't make enough tea to need something like this but I tend to make a pot and drink it all day so this rocks.
You can pretty much steep your tea where you please - in a mug, teapot, or some fancy gadget that has a built in steep mechanism (more on that later).
I steep my tea in that pot above (see why I love it?), a smaller tea pot, or a mug with a strainer in place. If you are someone who only makes a cup, a teapot is total overkill but if you regularly make cup after cup, consider getting a pot appropriate to the size you want to drink. While many folks get ornate cast iron post now popular everywhere from tea boutiques to Target, think about how heavy they are PLUS the added weight of a quart of water.
I found my vintage Corelle pot on Etsy but there are hundreds on eBay. They are lightweight, very affordable and boil quickly.
My smaller pot is the
Dripless Teapot
from Teaspot.com They now have a newer model called the Mod Pot with a special basket that fits it better than the Tuffy Steeper but I'm pretty sure the design is the same.
This pot holds 20oz and was fine for me alone but not enough for me to pour for myself and two girls. It really is a dripless pot and that is truly awesome.
This is were new loose tea aficionados often get cranky. They buy a lovely bag of loose tea and a pretty tea ball or a clampy style weird strainer thingy. Maybe a pretty strainer they can set on top - you've seen them. They follow the directions, measure out their tea and wait with bated breath... and then they proceed to pick the tea leaves out of their teeth.
So what can you do on the cheap at home? Well for one, don't try to use a coffee filter. Trust me. Mess. Burns. You get the idea. If you have a small mesh strainer, go for it but be aware that it may let some tea through.
Stay away from those tea balls on chains, etc etc ... they just don't work and are often hard to clean. There are disposable choices and reusable choices. Touching on disposable briefly, you can get paper tea bags you can fill yourself but they aren't cost effective if you will be using them often. Other similar options are muslin bags that you can reuse for a while but these also do not last forever. If you want to be crafty, sew your a bunch of own and put a wee drawstring at the top - any white cotton cloth will work fine.
One of my steepers is The People's Brew Basket made by the Republic of Tea. This is an affordable, effective steeper with super fine mesh (filters out most of the finest particles of your blend). The one I have is about 15 years old and still working fine. It cleans best if you rinse it out when the tea is wet. The only downside is that it can be too small for some pot openings, and sinks down below the lid in some of the very large mugs. I've actually set this inside some of my larger steepers when brewing a pot of rooibos tea, which tends to evade even the most challenging steeper.
Another one I love is this large
Steeping Mug
from The Tea Spot. The strainer is very good except for the fine rooibos teas. The strainer is slick and smooth, dishwasher safe. It cleans completely easily and rarely gets leftover tea stuck in the holes. My children killed my mug. I'm still in mourning. I still use the lovely strainer in regular mugs. The strainer is actually available separately but you need to call directly to get the link to order.
My last strainer just arrived today so of course I've already test-driven it. I'd been having trouble finding a deep steeper that would hang on the wide rim of my Corelle teapot. This large
Finium Brewing Basket
seems to fit the bill. I was impressed today how well the water flowed through the filter and was shocked that absolutely no rooibos got through into the brew.
As I mentioned above, you can also get a gadget like this that steeps and strains as one unit. This is referred to as a gravity teapot. I've had these and they do produce a nice brew. You fill it with your loose tea and boiling water and when it's ready, you sit the gadget on top of your much and a catch releases so that the tea flows through the filter into your cup. It does do a lovely job. I found it really fiddly to clean (personally) which was a major turn off.
The biggest downside to this device is that I make quite a bit of tea at once ... but what if I don't use the last 6 ounces? I can't leave it in the gravity pot because the leaves are in there. I found myself having to put that last bit into an extra mug or a mason jar and tuck it in the fridge. There was no easy way to keep that extra warm and it just buuuuuugged me. So while many people love this, it's design just doesn't work for me.
So now you have an idea of what you need! Here are some great links on tea that may help you on your road to the perfect cup.
Caffiene and Tea
- Did you know how you brew your tea affects the caffiene level?
How to Brew it. Really
. - 3 minutes at 208F? What does that mean?? Read this article for realistic instructions.
Types of Tea
- With cool pictures
My kind of Chai
- a few of my favorite spiced teas
**I am in no way connected or receive reimbursement/product/kickbacks/magic powers from any of the companies mentioned here. All products mentioned were purchased by me, generally using standard shipping which I immediately regretted as it takes too flipping long.**